Last week, the USDA's Foreign Agricultural Service (FAS) released its 2021 U.S. Agricultural Export Yearbook, a statistical summary of U.S. agricultural commodity exports.  Today's update includes highlights from the report, with a focus on soybeans, corn and wheat.
The Yearbook stated that,
Total U.S. agricultural exports in 2021 were a record $177.0 billion, $22.5 billion above the previous record set in 2014. Exports of soybeans, corn and beef led the way as the top three American exports with all three setting records last year. Pork, dairy products, soy meal, distillers' grains, and pet food also set records.
"Corn was the primary contributor to the record-breaking exports, up $9.5 billion over 2020, more than doubling the previous year's value, reaching a record $18.7 billion in 2021. U.S. corn was very competitive in global markets supported by abundant supplies, lower demand for ethanol as a fuel, and tight supplies in the competitor nations of Brazil and Ukraine. The People's Republic of China (PRC) was the top destination for U.S. corn, up 316 percent ($3.9 billion) over 2020, as the country rebuilt its swine herd following an outbreak of African swine fever (ASF) that began in 2018."
"Soybeans were again the No. 1 U.S. agricultural export commodity in 2021, with a record $27.4 billion, a 7-percent increase over the previous year," the Yearbook said.
More narrowly with respect to corn, FAS explained that, "The top three destinations accounted for 69 percent of total U.S. corn exports. Globally, despite smaller available supplies, Ukraine's exports to China were larger, resulting in many countries turning to U.S. corn. For Brazil, the impact of drought on the second corn crop (known as the 'safrinha') sharply reduced available supplies for export."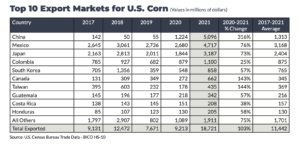 Regarding soybeans, the Yearbook noted that, "Mexico accounted for more than 40 percent of the export value growth, as tonnage was up marginally despite higher unit values. Most of the remaining growth came from the EU, Japan, Turkey, and Indonesia. Sales to China remained relatively flat as a 20-percent drop in export volume offset stronger prices. The total value of U.S. soybean exports was 30 percent above the 5-year average of 2016-2020."
While discussing wheat exports, FAS pointed out that, "In 2021, the value of U.S. wheat exports to the world reached $7.3 billion, up 15 percent from 2020 due to higher unit values. The top three markets, accounting for 40 percent of sales, were Mexico at $1.3 billion, the Philippines at $871 million, and China at $803 million. Rising unit prices more than offset lower export volumes. The United States faced tight supplies and increased international competition in Western Hemisphere and Asian markets."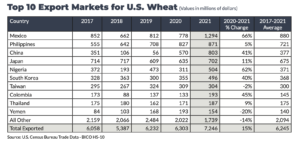 The Yearbook also noted that, "All of the 15 top U.S. export destinations increased their value of imports last year with 8 of them setting records. China retained its position as the No. 1 export destination for U.S. agriculture importing a record $33 billion, an increase of $6.6 billion over 2020 and accounting for a quarter of the $27 billion increase in exports to the world last year."
FAS added that, "While Brazil remained the top supplier of agricultural goods to China with 22-percent market share, the United States was able to expand its market share from 14 percent in 2020 to 18 percent in 2021, but still below 2017 levels."
"U.S. exports of other top commodities to China performed well, especially beef and beef products. Between 2003 and 2017, with limited market access, China was not a major market for U.S. beef; by 2021, it became the third-largest U.S. beef export market," FAS said.