Nabih Bulos reported on the front page of today's Los Angeles Times that, "Russia's invasion of Ukraine upended the workings of what before the war was the world's fourth-largest grain exporter. Almost six months into Moscow's blockade of the Black Sea, the primary outlet for Ukraine's wheat and oilseed exports, more than 22 million tons of grain and other crops remain stranded inside the country, with nowhere to go and fewer and fewer places for storage.
"An internationally brokered deal began allowing some cargo ships to set sail from Ukraine last week. But their freight represents a tiny fraction of the total awaiting liberation. Worse yet, the logjam is set to grow, Ukrainian President Volodymyr Zelensky said, with the 2022 wheat harvest already being reaped while last year's sits trapped."
Today's article explained that, "Countries that rely on Ukrainian wheat are already suffering. On top of pandemic supply-chain disruptions and Western sanctions on Russian oil and gas, the sharply reduced wheat supplies have already triggered a 25% increase in the price of bread in war-torn, poverty-racked Yemen. In Nigeria, another major importer of Ukrainian wheat, the price increase is double that.
"As a result of that additional stress, the number of 'people marching to starvation' around the globe has risen to 345 million, World Food Program chief David Beasley told the House Foreign Affairs Committee on July 20. About 50 million people in 45 countries are 'knocking on famine's door,' he added."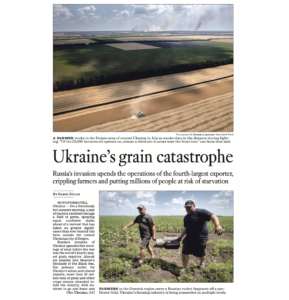 The LA Times article noted that, "On Monday, two more ships loaded with more than 66,000 tons of agricultural products departed from Ukrainian ports, and the first grain ship to reach its final destination arrived in Turkey, raising cautious optimism that the Russian-Ukrainian deal was working.
"'This sends a message of hope to every family in the Middle East, Africa and Asia: Ukraine won't abandon you. If Russia sticks to its obligations, the 'grain corridor' will keep maintaining global food security,' Ukrainian Foreign Minister Dmytro Kuleba tweeted."
Bulos added that, "Still, [Nader Wansa, who heads Wansa Group Commodities, a British-based firm], doesn't expect the relief to be immediate.
"'It gives us hope, but markets take awhile to take this into account. And the damage is so extensive it will need a long time to recover,' he said.
"In the meantime, with fertilizer production levels expected to be lower this year, along with the decrease in the purchasing power of grain-importing countries in the Middle East and Africa, he expected the overall picture to deteriorate further.
"'It's a long road. But the worst pain has yet to come.'"
Meanwhile, Reuters writers Jonathan Saul and Michelle Nichols reported yesterday that, "Ships exporting Ukraine grain through the Black Sea will be protected by a 10 nautical mile buffer zone, according to long-awaited procedures agreed by Russia, Ukraine, Turkey and the United Nations on Monday and seen by Reuters.
"The United Nations and Turkey brokered a deal last month after Russia's Feb. 24 invasion of Ukraine halted grain exports, stoking a global food crisis that the United Nations says has pushed tens of millions more people into hunger.
"Since then Russia, Ukraine, Turkey and the United Nations have been working to hammer out written procedures in the hope that it will assure shipping and insurance companies enough to resume grain and fertilizer shipments from the Ukrainian ports of Odesa, Chornomorsk and Yuzhny.
'We very much hope it will increase the traffic under this initiative,' said U.N. Secretary-General Antonio Guterres' spokesman Stephane Dujarric after the procedures were agreed.
The Reuters article explained that, "The shipping and insurance industry wanted assurances of a secure journey with no threat of sea mines or attacks to their ships and crews. These are typically covered in standard operating procedures, which is what was agreed on Monday."
Elsewhere, Bloomberg writer Megan Durisin reported yesterday that, "The first crop cargo to depart Ukraine's newly opened grain ports is now floating in the Mediterranean Sea, searching for a new destination after losing its buyer.
"Ukraine's embassy in Beirut on Monday posted a picture of the vessel Razoni and said the cargo has been rejected by its final buyer in Lebanon, due to a five-month delay in its delivery. It was the first agriculture ship to leave the country's major Black Sea ports since Russia's invasion, loaded with about 26,500 tons of corn after a deal was recently brokered to restart exports.
According to the information of the shipper the final buyer in Lebanon refused to accept the cargo due to delay of delivery terms (more than 5 months). So the shipper is now looking for another consignee. It can either be in Lebanon or other country. pic.twitter.com/Qj1cyF5Uda

— UKR_Emb in Lebanon (@UKRinLBN) August 8, 2022
"The tumult in its journey to find a customer highlights the challenges that lie ahead for Ukrainian grain shipments to return to normal as the war persists. The Razoni's shipper is looking for a new buyer in Lebanon or elsewhere, according to the embassy. Its destination changed Sunday from Tripoli to 'order,' ship-tracking data shows."