Nabih Bulos, Laura King, and Henry Chu reported on the front page of today's Los Angeles Times that, "A dozen days into a devastating war and a burgeoning refugee crisis, Russian forces on Monday launched withering new attacks on civilian areas and strategic centers in Ukraine, seeking to cripple the country's defenses and establish supremacy over its vital Black Sea coast."
On Monday, Bloomberg writers Kim Chipman and Megan Durisin reported that, "Chicago wheat settled at the highest price on record as Russia's intensifying war in Ukraine cuts off supplies from one of the world's leading breadbaskets.
"Benchmark futures climbed by the exchange limit of 85 cents, or 7%, to close at $12.94 a bushel. That builds on a massive surge of 41% last week, the biggest gain in data spanning six decades. The Paris contract for wheat breached an all-time high after jumping as much as 14%."
However, Chipman and Durisin pointed out that, "The gains stand in contrast to the cash market, where some buyers are balking at the lofty prices as traders try to get a handle on the war's impact."
On Tuesday, Bloomberg writers Megan Durisin, James Poole, and Sybilla Gross reported that, "Wheat futures reached unprecedented highs on Tuesday, highlighting the severe fallout for global food supplies from Russia's invasion of Ukraine.
"Most-active futures in Chicago leaped to $13.635 a bushel at the start of the trading session, representing a stunning 77% gain in the staple grain's price this year. The world is facing a huge supply shock as the war cuts off shipments from a region that accounts for a quarter of global grains trade and the bulk of sunflower oil.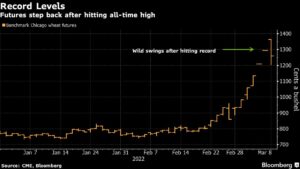 "Wheat has since retreated from its peak, but remains at lofty heights. The last time the grain was near these levels came during a 2008 food crisis that sparked political unrest worldwide. Rapeseed and canola futures also reached fresh records, and corn has risen by a quarter this year."
Also this week, Reuters writer Kevin Liffey reported that, "Leading Moscow agriculture consultancy SovEcon on Monday cut its forecast for Russian wheat exports for the period July 2021-June 2022 by 0.8 million tonnes to 33.5 million tonnes, the Interfax news agency reported."
And Bloomberg writers Thomas Gualtieri and Alonso Soto reported on Monday that, "The European Union could consider temporarily lifting a ban on imports of genetically modified grains from the U.S. and South America to help farmers struggling with supply disruptions caused by the war in Ukraine, according to Spain's Agriculture Minister Luis Planas.
"Spain and France have also proposed a waiver on agricultural goods with traces of herbicide to increase stocks and seek alternative suppliers of mainly corn, which is key for the production of animal feed."
"'This is a warning call for us to think about having the capacity to provide food security to our 450 million citizens,' said Planas in an interview with Bloomberg News. 'We need the European Union to add flexibility to grain import rules.'"
Meanwhile, Bloomberg writers Taylan Bilgic, Megan Durisin, Salma El Wardany, and Eko Listiyorini reported today that,
The shockwaves in global crop markets from Russia's invasion of Ukraine are now spreading to store shelves.
"Worries about surging sunflower oil prices triggered heavy buying over the weekend in Turkey, as footage of citizens trying to grab tins of cheaper oil at one store went viral. In Egypt, the world's biggest wheat importer, prices for some unsubsidized bread have jumped in the past week."
"Wheat prices have surpassed levels last seen during the 2008 global food crisis — which helped spark widespread protests — and a United Nations index of food prices hit a record in February," the Bloomberg article said.
Reuters writer Rajendra Jadhav reported on Monday that, "Indians are stocking up vegetable oil and fuel, fearing that Russia's invasion of Ukraine may cause an edible oil shortage, while a rally in global crude oil prices may lead New Delhi to aggressively raise fuel prices as elections conclude in key states."
In other market developments, Reuters writer Luiza Ilie reported this week that, "Romania has enough grain and food reserves to weather Russia's invasion of Ukraine and is not considering limiting wheat exports at the moment, Farm Minister Adrian Chesnoiu said on Monday."
Also this week, Reuters writer Nelson Banya reported that, "South Africa will feel the impact of the Russia-Ukraine conflict on food prices but is also primed to benefit from it through maize exports, experts said on Tuesday."
Reuters writer Michael Hogan reported this week that, "Leading German agricultural trading group BayWa AG on Monday criticised Hungary, a major supplier of corn animal feed to the EU, over its decision to ban grain exports following a surge in prices."
Regarding U.S. winter wheat prospects, Reuters writer Julie Ingwersen reported on Monday that, "The U.S. Department of Agriculture's (USDA) National Agricultural Statistics Service in a weekly crop report on Monday rated 24% of the Kansas winter wheat crop in good to excellent condition, down from 25% a week earlier."
"For Texas, the No. 2 winter wheat state by planted area, the USDA rated just 7% of the crop as good to excellent, down from 8% the previous week. The USDA rated 75% of the Texas crop as poor to very poor, steady with the previous week."
Ingwersen added that, "For Oklahoma, the USDA rated 15% of the winter wheat crop in good to excellent condition, up from 11% a week earlier."
More broadly, Bloomberg's Jasmine Ng reported on Monday that, "Russia's invasion of Ukraine has delivered a global-scale disruption that is set to cascade through food supply chains and worsen hunger, but Asia's love for rice could limit the fallout.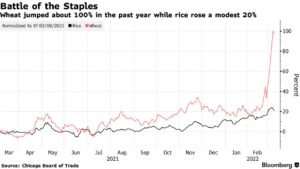 "Rice is more popular with many Asian consumers than wheat, which has seen supplies cut off from one of the world's breadbaskets, said Jules Hugot, an economist at the Asian Development Bank. Rice prices have been relatively stable, and it's easy to swap one staple for the other, he said."