Late last week, Aime Williams and Justin Jacobs reported at The Financial Times Online that, "China has purchased less than three-fifths of the US goods projected under the 'phase one' trade deal that paused a tariff dispute between the two countries a year ago, posing another challenge for the administration of Joe Biden in its relations with Beijing."
The FT writers indicated that, "According to analysis from the Peterson Institute for International Economics, Beijing has purchased just 58 per cent of the US exports expected under its projections, based on data to the end of last month."
China has bought $23.5bn of the agricultural products covered by the deal, compared with an expected first-year figure of $36.6bn.
Looking ahead, Bloomberg News reported last week that, "As the pact enters its second year, all eyes are on whether a new U.S. administration under President Joe Biden will try to renegotiate the deal."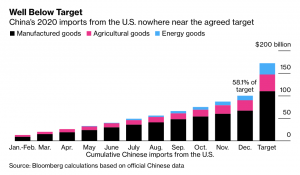 Meanwhile, Lingling Wei and Bob Davis reported in Saturday's Wall Street Journal that, "Looking to reset the troubled U.S.-China relationship, Beijing is pressing for a meeting of its top diplomat with senior aides to President Biden to explore a summit between the two nations' leaders, according to people with knowledge of the initiative."
The Journal article also stated that, "It isn't clear whether Mr. Biden's choice for U.S. Trade Representative, Katherine Tai, will push for enforcement of the Phase One deal or press for a new round of negotiations."
In more narrow reporting regarding agricultural purchases, Reuters writers Hallie Gu and Dominique Patton reported last week that, "China's soybean imports from the United States in 2020 rose by 52.8% from a year earlier, customs data showed on Wednesday, though the stepped up buying likely fell short of what was needed to fulfil last year's trade deal between the countries.
"The world's top soybean buyer last year brought in 25.89 million tonnes of the oilseed from the U.S., its second-largest supplier, up from 16.94 million tonnes in 2019."
Ag exports near 2017 levels ($24 billion)–far from targets but a good recovery from trade war. 2021 may be better yet based on sales to date. China needs protein meal and calories for meat and dairy production. https://t.co/rvmcXor9oW

— JoeGlauber–IFPRI (@JoeGlauber1) January 21, 2021
The Reuters article explained that, "Besides the push to meet the trade deal, soybean imports also rose as China rapidly replenished its pig herd after it was decimated by the deadly African swine fever during the last two years."
And a separate Reuters News article last week reported that, "China's grains imports soared to record highs in 2020, customs data showed on Monday, after tight domestic corn supplies pushed prices to multi-year peaks, driving demand for cheaper imports.
"China, the world's top agricultural market, bought a record 11.3 million tonnes of imported corn last year, including 2.25 million tonnes in December alone, according to General Administration of Customs data."
"China also imported a record 8.38 million tonnes of wheat, against a quota of 9.64 million tonnes," the Reuters article said.
In other news impacting Chinese grain demand, Reuters writer Dominique Patton reported on Thursday that, "A new form of African swine fever identified in Chinese pig farms is most likely caused by illicit vaccines, industry insiders say, a fresh blow to the world's largest pork producer, still recovering from a devastating epidemic of the virus.
"Two new strains of African swine fever have infected more than 1,000 sows on several farms owned by New Hope Liuhe, China's fourth-largest producer, as well as pigs being fattened for the firm by contract farmers, said Yan Zhichun, the company's chief science officer.
"Though the strains, which are missing one or two key genes present in the wild African swine fever virus, don't kill pigs like the disease that ravaged China's farms in 2018 and 2019, they cause a chronic condition that reduces the number of healthy piglets born, Yan told Reuters. At New Hope, and many large producers, infected pigs are culled to prevent the spread, making the disease effectively fatal."