DTN writer Russ Quinn reported yesterday that, "Most average retail fertilizer prices were lower the third week of January 2023, according to sellers surveyed by DTN.
Prices have moved considerably lower in recent weeks.
"Seven of the eight major fertilizers are lower in price compared to last month. Of these seven, the prices of six fertilizers were significantly lower, which DTN designates as a change of 5% or more.
"Both potash and anhydrous were down 9% compared to last month. Potash had an average price of $721 per ton, while anhydrous had an average price of $1,238/ton."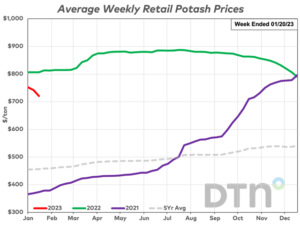 Quinn explained that, "Prices had been trending lower for months, but they've dropped considerably in recent weeks.
"But by how much?
"Looking back in DTN's fertilizer data, prices for all eight major fertilizers are essentially at the same level they were in the fall of 2021 — right before the beginning of the run-up in prices, which lasted for a full year and a half."
The DTN article stated that, "So, finally, some good news for producers in the retail fertilizer markets, as these are the lowest prices we have seen in roughly 15 months.
"This is especially true for those farmers who are still in the market for their fertilizer needs for the 2023 growing season."
Elsewhere, Reuters News reported yesterday that,
Mexico will not be able to completely replace all the corn it imports by 2024, Deputy Agriculture Minister Victor Suarez said on Wednesday, but it hopes to reduce its purchases between 30% and 40%.
"Latin America's second-largest economy is already self-sufficient in production of white corn, but is highly dependent on imports of yellow corn, which it largely purchases for use as livestock feed.
"Suarez said Mexico is progressing 'significantly' in its bid to substitute grain imports, which come almost entirely from the United States."
The Reuters article noted that, "Suarez said Mexico's next government also would have to deal with the issue and that it will need to 'continue the strategy of saving small growers and food self-sufficiency.'
"Mexican President Andres Manuel Lopez Obrador's term is set to end in October 2024."