Bloomberg writer Elizabeth Elkin reported yesterday that, "In more bad news for farmers, a fertilizer that's key for corn production will remain expensive for at least two years.
"That's according to CF Industries Holdings Inc., the world's largest nitrogen fertilizer company. Prices have been skyrocketing as the war in Ukraine puts a large portion of the world's fertilizer supplies at risk, since Russia is major producer. Costs of production are also skyrocketing with inputs like European natural gas rising on a potential fuel crunch. It's all contributing to worries about food inflation, since fertilizer shortfalls could lead to smaller harvests."
Elkin explained that, "However, CF isn't seeing farmers shy away from buying in the US just yet, said senior vice president of sales and market development Bert Frost.
'We don't see demand destruction,' Frost said at a conference in New York on Wednesday. 'We see demand deferral.'
Also yesterday, DTN writer Russ Quinn reported that, "Retail fertilizer prices tracked by DTN for the second week of May 2022 continue to show mostly higher nutrient prices. But for the first time in many weeks, two different fertilizers were slightly lower.
"The price of six fertilizers were more expensive, but none were up a substantial amount. DTN designates a significant move as anything 5% or more."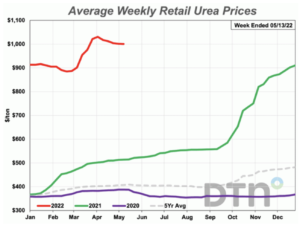 Quinn noted that, "DAP had an average price of $1,059 per ton (all-time high), MAP $1,083/ton (all-time high), potash $881/ton, 10-34-0 $906/ton, UAN28 $634/ton (all-time high) and UAN32 $730/ton (all-time high).
"Two fertilizers were slightly lower compared to last month, but neither hit the 5% threshold of significance. Urea was slightly less expensive compared to last month and had an average price of $1,000/ton, while anhydrous was at $1,529/ton."
Meanwhile, Peter S. Goodman reported on the front page of Wednesday's New York Times that, "[Since Russia invaded Ukraine], the most direct repercussions are seen in the rising prices of cooking fuel, fertilizer and staple foods like wheat, disrupting agriculture and threatening nutrition in much of the world."
The Times article pointed out that, "…farmers are grappling with malevolent arithmetic, as prices rise for animal feed, fertilizers and pesticides.
"Indonesia has in recent years imported growing stocks of fertilizer from Russia. With fertilizer costs doubling in recent months, farmers have limited their application, diminishing their harvests."
Goodman added that, "The fighting in Ukraine has prompted farmers in Ukraine to flee their land, while Russia has blockaded Ukrainian ports on the Black Sea — vital conduits for exports. Last week, the World Food Program warned that the shutdowns of the ports threatened to worsen severe food insecurity in Ethiopia, South Sudan, Syria, Yemen and Afghanistan.
"Russia and Ukraine supply all the wheat imported by Somalia and Benin, and at least two-thirds of the supply reaching Tanzania, Senegal, the Democratic Republic of Congo, Sudan and Egypt, according to research from the United Nations Conference on Trade and Development."
In related news regarding Ukrainian grain flows, Reuters writer Michelle Nichols reported yesterday that, "U.N. Secretary-General Antonio Guterres said on Wednesday that he is in 'intense contact' with Russia, Ukraine, Turkey, the United States and the European Union in an effort to restore Ukrainian grain export as a global food crisis worsens.
"'I am hopeful, but there is still a way to go,' said Guterres, who visited Moscow and Kyiv late last month. 'The complex security, economic and financial implications require goodwill on all sides.'"
The Reuters article stated that, "[U.S. Secretary of State Antony Blinken] said Russia must be compelled to create corridors so that food and other vital supplies can safely leave Ukraine by land or sea.
"'There are an estimated 22 million tons of grain sitting in silos in Ukraine right now. Food that could immediately go toward helping those in need if it can simply get out of the country,' Blinken said."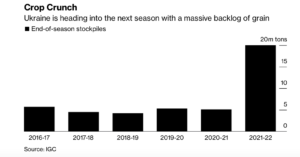 With respect to Russian grain exports, Reuters writer Gus Trompiz reported yesterday that, "Russia, one of the world's largest wheat exporters, will export more of the grain in the new July-June marketing season due to a large harvest and stockpile, the IKAR consultancy said on Wednesday, raising its estimate for the wheat crop."
"Russia may export 39 million tonnes of wheat in the 2022/23 season, which starts on July 1, Dmitry Rylko, the head of IKAR, told a conference in Geneva. In the current season, IKAR expects the exports at 32.0-32.5 million tonnes," the Reuters article said.
And Alan Rappeport and Patricia Cohen reported in today's New York Times that, "Rising food prices are another matter causing anxiety among finance ministers. The Treasury Department released a report on Wednesday laying out plans by the World Bank and other international financial institutions to combat food shortages.
"The interruption of wheat exports from Ukraine and Russia, which together account for 28 percent of global exports, along with supply chain disruptions, a severe drought in India that has caused it to ban shipments of grain and Covid-related lockdowns in China, are also causing food prices to spiral and increasing global hunger, particularly in Africa and the Middle East."
In crop production news, Bloomberg writer Jen Skerritt reported yesterday that, "Farmers in parts of Canada's Prairies are struggling to get crops in the ground as heavy rains continue to wallop the eastern region in the latest threat to global grain supplies.
"Virtually no seeding has been done in Manitoba as more than 90% of the crop land is suffering from excess moisture, said Trevor Hadwen, agroclimate specialist with Agriculture and Agri-Food Canada. Only 4% of the province's crops have been sown as of May 17, lagging the five-year average of 50%. Farmers are scrambling to look for dry areas to plant as they swap acres of corn and soybeans for wheat and canola, which are crops that have shorter seasons, according to Manitoba's agriculture ministry."