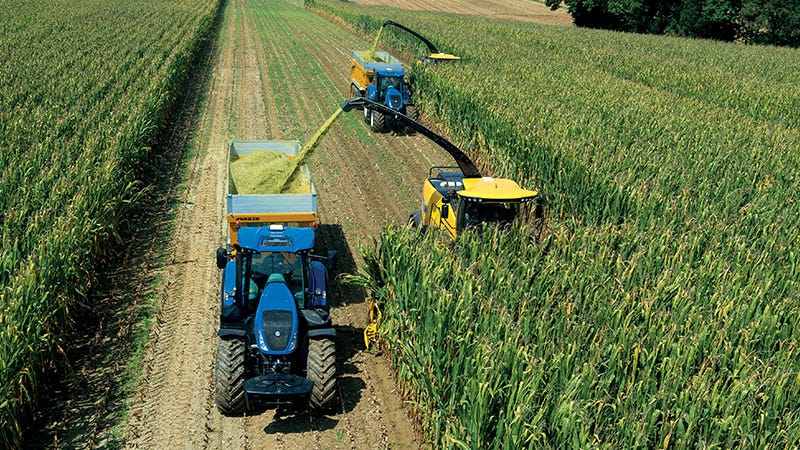 Ellens Equipment, with locations in McBain, Beal City and Ithaca, will be participating in this year's AgroExpo forage harvester field demonstrations, Aug. 17-18, showcasing he New Holland FR Forage Cruiser self-propelled chopper.
As of press time, Luke Ellens said the company is planning on bringing in a FR780 unit for the corn chopping field demos, but there may be a chance the company will receive a FR920 model in time for the show instead.
"New Holland has been at the forefront of the forage harvesting sector for over half a century with a whole host of pioneering industry firsts that have revolutionized the way you harvest today," Ellens said. "Now, New Holland is proud to introduce the new five-model FR Forage Cruiser line with powers ranging from 476 horsepower right up to the mighty 911 horsepower of the new flagship FR920."
Ellens says New Holland has married industry-leading chopping performance to outstanding operator comfort and added superior control with the IntelliView™ IV monitor.
Significantly improved capacity and productivity result from better crop flow and new engines. All this is wrapped up in a sleek, tapered design which has New Holland written all over it.
Ultimate capacity
New Holland knows that throughput is king where forage harvesters are concerned and that owners dream in tons per hour. The new FR920 is powered by the all-new V20 8-cylinder V-layout engine developed by FPT Industrial.
This mighty beast will have you steaming up and down fields. ECO engine management mode works to ensure the engine is always fully loaded in relation to a preset engine speed to deliver optimal operating efficiency and performance. Renowned Power Cruise™ features ensure your FR's voracious appetite is satisfied in fields of varying crop density, and state-of-the-art headers eat grass, corn and whole biomass crop.
Superior harvest quality
The industry's widest crop channel from feedrolls to spout flipper means a thin, controlled crop mat for best-in-class chop quality. HydroLoc™ feedroll drive technology guarantees constant chop length independent of throughput and crop type. When combined with uniform kernel cracking from the most efficient crop processor around, you've got the ingredients for chopping the highest quality cattle feed.
Best-in-class fuel efficiency
The FR650 Forage Cruiser was put through its paces by the DLG Test Center for Technology and Farm Inputs in Gross-Umstadt, Germany. The results will offer you impressive efficiency savings.
The FR650 consumed a mere 0.0349 gallons of diesel per ton of corn harvested when chopping at .75 inches (19 mm). When compared to the previous FR600, this translates to 13% fuel saving, while increasing capacity by 14%, saving you both time and money.
Lower operating costs
Lower operating costs mean higher profits. All Forage Cruiser models (except the FR850) benefit from advanced ECOBlue™ HI-eSCR technology for Tier 4B compliance, which optimizes your fuel consumption, saving you money.
For example, the FR650 has 5% increased capacity while consuming 21% less fuel than its larger FR700 predecessor model. Increasing productivity and reducing costs.
Advanced MetaLoc™ technology protects your FR from damaging metal, saving you money. The patented Variflow™ system can be changed from corn to hay position in under two minutes without the need for tools.
Saving you time, earning you money. The FR: a moneymaking machine.
Absolute driving pleasure
Skilled forage harvester operators are hard to find. The FR offers a first-class operating environment to make them want to stay. Front, back, or side to side, your view is uninterrupted to improve visibility for accurate crop pickup and discharge.
The all-new cab interior has been completely redesigned to put the operator at the heart of the machine. The new armrest is an example of ergonomic excellence with all controls falling naturally into experienced hands.
Plus, it boasts the ultra-wide IntelliView™ IV color touchscreen monitor to keep all key operating parameters under control. The available IntelliFill™ feature fills the trailer for you so you can concentrate on the serious business of driving. Welcome aboard!
Exactly what it says on the shielding
The level of FR Forage Cruisers performance is immediately obvious to all users. How? It's on the side shielding. The 'FR' stands for forage harvester, while the following three numbers, 780 for example, refer to the maximum harvesting power rounded to the nearest 10.