DTN writer Russ Quinn reported last week that, "Retail fertilizer prices continued to be slightly higher again the third week of April 2022, according to sellers surveyed by DTN."
Quinn noted that, "The average retail price of MAP was up 6% compared to last month. The phosphorus fertilizer had an average price of $1,079/ton. This ties the all-time-high price for MAP in our DTN data set. The previous time this level was achieved was the first week of November 2008.
"The other fertilizer up considerably in price was UAN32, which was 5% more expensive compared to last month. The liquid nitrogen's average price was $730/ton (all-time high price).
"The remaining six fertilizers were slightly higher looking back to last month. DAP had an average price of $1,050/ton (all-time high), potash $879/ton, urea $1,012/ton (all-time high), 10-34-0 $906/ton, anhydrous $1,534/ton (all-time high) and UAN28 $631/ton (all-time high)."
In other fertilizer related news, Reuters writer Victoria Klesty reported last week that,
Norwegian fertiliser maker Yara still operates in Ukraine, supplying farmers who tend to their fields in spite of the dangers involved, the firm's chief executive said on Wednesday.
"Yara has driven 120 trucks of fertilisers into Ukraine since the war started, [Yara CEO Svein Tore Holsether] said."
Meanwhile, Bloomberg writers Tatiana Freitas and Simone Preissler Iglesias reported last week that, "One of Brazil's largest farmers is planning to reduce fertilizer use by a quarter next season, relying on more precise applications and soil testing to maintain crop yields.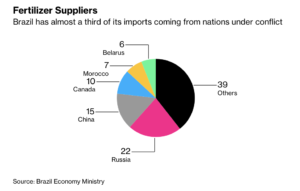 "SLC Agricola SA, which cultivates an area bigger than Delaware with soybeans, corn and cotton, will probably use between 20% and 25% less fertilizer in 2022-2023 without jeopardizing yields, according to Chief Executive Officer Aurelio Pavinato. The decision on whether and where cut applications will be based on soil testing and precision agriculture, tools already adopted by the firm for several years."
"SLC's plan offers a glimpse of how growers in the agriculture superpower are preparing to deal with a global shortage of crop nutrients in the wake of Russia's invasion of Ukraine that has caused prices to skyrocket, threatening to reduce production of staple crops exported around the world," the Bloomberg article said.
With respect to U.S. fertilizer use, Wall Street Journal writers Patrick Thomas and Amrith Ramkumar reported yesterday that, "Startups marketing alternative crop fertilizers said they are gaining traction among U.S. farmers and investors, pitching themselves as a potentially cheaper option as prices for traditional fertilizers surge.
"Companies such as Pivot Bio, Kula Bio and Anuvia are pushing development of farm fertilizers by harnessing microbes or plant-based products to deliver nutrients that corn and other crops need. They aim to replace traditional fertilizers produced from natural gas or mined underground, prices of which have hit records this year due to supply-chain constraints and Russia's war on Ukraine.
"While some farmers have been skeptical of trading in tried-and-true fertilizers for still-nascent alternatives, startup executives and investors said that escalating prices for traditional nitrogen, potash and phosphorous-based fertilizers are giving farmers extra incentive to test drive the new products. Such startups, which pitch their products as more environmentally friendly than conventional fertilizers, have attracted roughly $1 billion since early last year, according to research AgFunder."
BREAKING: US national average **retail diesel** price hits a **record high** of $5.18 per gallon, according to data from the AAA motoring club.

The retail price spike follows a massive rally in wholesale diesel prices this week on ultra-low inventories #OOTT #DieselSqueeze pic.twitter.com/XqR27V0vHU

— Javier Blas (@JavierBlas) April 29, 2022
In other news regarding input costs, Bloomberg writer Chunzi Xu reported on Friday that, "Diesel prices are surging to the highest level on record as the global fuel-supply shortage hits American truckers, farmers and users in just about every sector of the U.S. economy.
"Retail diesel averaged $5.18 a gallon on Thursday, the highest in records going back to 2005, according to auto club AAA."
And Patrick Thomas reported in Saturday's Wall Street Journal that, "Congestion on America's railroads is disrupting operations for farmers and agriculture companies, industry officials said, potentially pushing up food prices.
Delayed trains and scarce railcars are impeding crop shipments this spring, causing grain storage facilities to fill up, backing up fertilizer shipments and temporarily shutting down production at ethanol producing plants, company executives said. Railroad operators said they are working to fix the problems but struggling to find enough workers.
"The railroad slowdown has grain companies looking for other ways to move farm commodities across the country, leading to higher transportation costs that company officials said will ultimately increase food prices for consumers. Food globally is already becoming more expensive, with food makers paying more for fuel, ingredients and labor."
Thomas added that, "The railroad companies attribute the service problems to worker shortages and high demand. The companies have said they are making headway on staffing issues as they ramp up hiring. Union Pacific said last week during its latest quarterly earnings report that operationally it didn't meet expectations and is working to increase crews and locomotives where needed.
"'Clearly, the entire rail industry is in a place where we're, as a collective, not providing the kind of service that our customers demand,' Union Pacific CEO Lance Fritz said on a call with analysts. 'This is all about getting our labor right, getting utilization right, making sure the other resources are ready and then executing.'"