Financial Times writers Myles McCormick and Derek Brower reported yesterday that, "Russia's invasion of Ukraine is threatening food shortages in import-dependent nations, but it is also increasing costs for growers based in big agricultural exporters.
"The primary challenge for US and Canadian farmers is the price of fertiliser."
The FT article noted that, "A study by academics at the University of Illinois estimated that rising fertiliser costs would cut farm incomes by about a third between 2021 and 2022, even before the invasion of Ukraine began. In the US, the Biden administration has said it will pump funds into domestic fertiliser production in an effort to cut costs, but any results will take time.
"High fertiliser prices have triggered a shift to crops that require less of it: US farmers intended to plant 4 per cent fewer acres with corn this spring, while boosting land for soyabeans, according to the US Department of Agriculture."
Yesterday's article pointed out that, "The price of diesel fuel that powers tractors, harvesters and grain trucks has also soared, with US prices at the pump rising 70 per cent in the past year to record levels of more than $5.50 a gallon."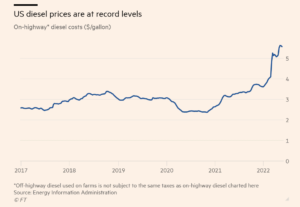 McCormick and Brower stated that, "In central Illinois, one of the highest-yielding corn and soyabean regions in the world, pesticide costs are expected to be up by a quarter this year versus 2021, according to a University of Illinois study. Machinery repair costs are also set to jump about 20 per cent because of supply chain constraints."
Nonetheless, the FT article indicated that, "Elevated crop prices mean many farmers will be able to weather higher costs for now. Early estimates suggest that should crop prices remain high, returns for corn and soy will be down on last year but remain well above previous years.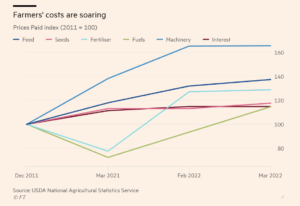 "'If those [crop] prices stay up there farmers will absorb those prices and be profitable,' said Gary Schnitkey, a professor at the University of Illinois at Urbana-Champaign. 'But the minute they come down . . . we're looking at very large losses. The returns are still there, but those risks are high.'"