Bloomberg writer Megan Durisin reported today that, "Harvests of some of Ukraine's most important crops could be cut in half this year, threatening its position as a major exporter and exacerbating already tight global supplies.
"Russia's invasion is happening at a crucial time for crops. Ukrainian farmers have just started planting corn and sunflowers, progress of which is being hobbled by field mines and a lack of fuel and fertilizers. For wheat that was sown months before the war, a chunk of the area is occupied by troops.
"With ports mostly shut, farmers are also considering switching to crops more suited to local consumption than for export. Even at this early stage in the growing season the situation looks bleak, with analysts projecting output down between 30% and 55%, depending on the crop. That adds to risks for shortages of key staples and may further raise global food prices already at a record."
And yesterday, Bloomberg writers Kim Chipman, Michael Hirtzer, Megan Durisin, and Tarso Veloso Ribeiro reported that, "The U.S. continued to slash estimates for Ukraine's grain exports as sea routes were curbed following Russia's invasion.
"Ukraine's corn exports will drop by another 4.5 million tons to 23 million tons and wheat exports by 1 million tons, according to the U.S. Department of Agriculture's closely watched World Agricultural Supply and Demand Estimates, or WASDE. Global wheat stockpiles were revised down to 278.4 million tons, less than expected by a Bloomberg survey."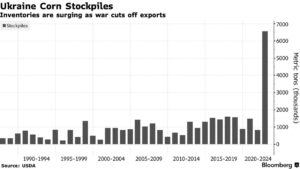 The Bloomberg writers explained that, "To see how significantly the war is upending crop flows from Ukraine, its corn stockpiles tell the story. The war has left the country saddled with huge amounts of grain that it's largely unable to move. With its ports shut, Ukraine is working to ramp up exports via rail, but the flows remain well below normal seaborne trade."
Dow Jones writer Kirk Maltais reported yesterday that, "In its latest world supply and demand report, the U.S. Department of Agriculture forecast that world stockpiles of old-crop corn would total 305.5 million metric tons, higher than the agency's previous forecast of 301 million tons. World inventories of soybeans are seen slightly lower from the previous month at an estimated 89.6 million tons, versus 90 million tons forecast last month.
"In Friday's report, the USDA said its global corn figure rose amid higher production of corn in areas like Brazil and Indonesia, with reduced trade keeping more corn at its place of origin."
Writing in today's Wall Street Journal, Alistair MacDonald and Patrick Thomas reported that, "Russia's invasion of Ukraine has closed off the Black Sea ports that funnel much of the produce grown in the region around the world. Experts fear the impact of the war could be long lasting, as the fighting churns up farmland, smashes infrastructure and deprives farmers of fuel and fertilizers, which will likely reduce future crop yields. Many workers have also left the country or joined the fight."
Today's article indicated that,
The Ukrainian government predicts that there will be 25% less land planted this spring than usual, though some experts say that forecast is too optimistic. 'If it is only 25% I would be amazed,' said John Rich, executive chairman of MHP, one of Ukraine's biggest grain exporters.
Meanwhile, New York Times writer Jack Nicas reported yesterday that, "And then there are food prices, which have climbed to their highest level in more than a decade largely because of the pandemic's supply chain mess, according to a recent United Nations report. A crucial portion of the world's wheat, corn and barley is trapped in Russia and Ukraine because of the war, while an even larger portion of the world's fertilizers is stuck in Russia and Belarus. The result is that global food and fertilizer prices are soaring. Since the invasion, wheat prices have increased by 21 percent, barley by 33 percent and some fertilizers by 40 percent.
"Now economists, aid organizations and government officials are warning of the repercussions: an increase in world hunger," the Times article said.
Nonetheless, in its monthly Grain: World Markets and Trade report yesterday, USDA's Foreign Agricultural Service (FAS) noted that, "In stark contrast to the record and near-record prices of corn and wheat over the past month, rice quotes have remained remarkably stable amid sufficient supplies and no disruptions to major exporters."
"The recent phenomenon of stable rice prices and higher wheat prices may impact consumer choices. Countries that consume wheat as their staple grain are unlikely to suddenly change buying habits, but countries with consumers of both wheat and rice may prefer rice based on the comparatively lower prices. Sub-Saharan Africa is a price-sensitive region that consumes roughly equal amounts of both grains and may shift consumption to the lower-priced rice or local alternatives," FAS said.
And Bloomberg writer Kim Chipman reported yesterday that, "Global food prices have surpassed those of the 2008 crisis even though stockpiles are higher, underscoring the need for calm and market transparency as Russia's invasion of Ukraine roils supply chains, the former head of the United Nations' Food & Agriculture Organization told Bloomberg Television.
Global food prices have surpassed those of the 2008 crisis even though stockpiles are higher, as Russia's invasion of Ukraine roils supply chains.

Director of Instituto Fome Zero, Jose Graziano da Silva says the 2008-11 crisis was the worst he ever saw https://t.co/MiNqMRUcSq pic.twitter.com/aCfcIQcFq7

— Bloomberg TV (@BloombergTV) April 8, 2022
"Jose Graziano da Silva says the 2008-11 crisis was the worst he ever saw and the world is in a 'much more comfortable position' now on food inventories."