Reuters writer Pavel Polityuk reported yesterday that, "Ukraine's spring crop sowing area may more than halve this year from 2021 levels to some 7 million hectares, its Agriculture Minister Roman Leshchenko said on Tuesday, versus 15 million hectares expected before the Russian invasion.
"He said farmers could sow up to 3.3 million hectares of corn this year versus 5.4 million hectares in 2021," the Reuters article said, adding that, "Leshchenko said the ministry had urged farmers to sow more spring wheat, buckwheat, oats, millet and spring barley. He gave no forecast for the sown area of those specific crops, but said overly dry weather could affect the sowing."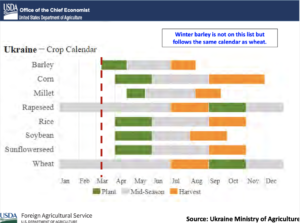 The Reuters article added that, "Leshchenko said farmers sowed a total of 6.5 million hectares of winter wheat for the 2022 harvest, but the harvested area could be only around 4 million hectares due to war in many Ukrainian regions.
"He declined to forecast the 2022 grain harvest, because 'the situation has not fully stabilized,' he said."
Also yesterday, Reuters writer Natalia Zinets reported that, "Ukraine's northwestern Rivne region has started sowing spring crops, and aims to sow 420,000 hectares and support regions whose harvests may be more heavily disrupted by the war with Russia, Governor Vitaliy Koval said on Tuesday.
"Rivne, which lies on Ukraine's northern border with Belarus, has started sowing spring wheat, oats and sugar beets and plans to plant large areas with spring cereals, sunflower and soybeans, Koval said in an online statement."
Ukraine's Ministry of Ag report farmers in Odesa region have started sowing spring crops, and as of March 22, they had planted 30KHA of spring barley out of the planned 750KHA.

In Mykolayiv region, the Ministry report winter crops are being fertilised and peas are being sown. pic.twitter.com/GL6gfPgyRQ

— Mike Lee (@GreenSquareAC) March 22, 2022
And Bloomberg writer Megan Durisin reported yesterday that, "Ukraine, the world's biggest sunflower producer, may only plant half a normal crop as farmers grapple with the fallout of the Russian invasion."
Durisin indicated that, "Ukrainian farmers are expected to sow about 3.5 to 4 million hectares (8.6 to 9.9 million acres) of the oilseed this spring, down from 6.8 million last year, Kyiv-based analyst UkrAgroConsult said in an emailed note. It framed its planting estimates as 'optimistic,' based on good weather and a rapid end to the war. Another researcher, APK-Inform, last week predicted plantings to fall to a 13-year low.
"Farmers lack fuel and are suffering damaged infrastructure and equipment, UkrAgroConsult said. Other major crops like corn and barley will also see significant planting cuts. And grains sown before winter, such as wheat, could face lower yields due to challenges applying inputs like fertilizer."
Meanwhile, Jude Webber reported yesterday at The Financial Times Online that, "Ireland, best-known for its grass-fed beef and dairy, has launched a €12mn crop cultivation scheme to boost grain production as the war in Ukraine creates a crunch in global supplies.
"The Irish government on Tuesday approved a payment of €400 per hectare to encourage farmers to plant additional barley, wheat and oats, in a return to a 'wartime tillage' programme last used during the second world war."
The FT article noted that,
Brussels is also on Wednesday likely to allow countries to plant animal feed crops on land left fallow for ecological reasons as part of the set-aside scheme and could approve extra subsidies to farmers from national governments to cope with spiralling costs.
With respect to exports, Bloomberg News reported yesterday that, "Russian wheat exports in March are holding at a near-normal pace despite the war raging in Ukraine, but that may not last as few new deals are being completed.
"Russia could export more than 2 million tons of the grain in March, according to analysts at IKAR and Sovecon. But while that means importers are continuing to get shipments from one of the world's biggest exporters for now, the picture may be very different in subsequent months."
In a look at the market price for wheat, Bloomberg's Kim Chipman and Megan Durisin reported yesterday that, "Chicago wheat pulled back on Tuesday as traders try to assess what Ukraine war and dry U.S. weather may mean for global supply of the crucial food staple."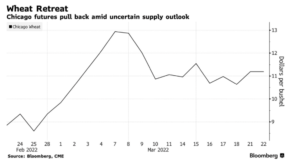 "Questions remain over whether the U.S. will see an increase in wheat exports due to a shortfall in the Black Sea region, which typically account for more than a quarter of global shipments. High prices may be stifling demand after Chicago wheat futures hit an all-time high of $13.635 a bushel earlier this month," the Bloomberg article said.
In other developments, Mark Dorenkamp reported yesterday at Brownfield that, "More than 80 members of Congress have written to the International Trade Commission about fertilizer tariffs contributing to record-high input costs for farmers.
"Minnesota Republican Tom Emmer tells Brownfield the bipartisan, bicameral letter asks the ITC chair to lift duties on imports from Morocco, Trinidad, and Tobago."
The food crisis of 2007-08 was triggered by drought and high oil prices. But countries made it worse by restricting exports and increasing imports in panic, which spiked prices for food even more. Result: 40 mill more people fell into hunger. Avoid this in today crises.

— Maximo Torero (@MaximoTorero) March 22, 2022
Also yesterday, an editorial from The Financial Times stated that, "Russia's army is attempting to starve the people of Mariupol into submission in an act of barbarity that almost certainly constitutes a war crime. But the knock-on effects of Vladimir Putin's invasion of Ukraine threaten hunger, even starvation, for millions of people beyond the immediate theatre of war.
"Russia and Ukraine are major food producers, accounting for roughly 30 per cent of global exports of wheat and barley. Russia alone exports 15 per cent of global fertiliser, while Belarus, also under sanctions, is an important producer of potash, crucial for growing soyabeans that in turn go into animal feed. If farmers around the world use less fertiliser, next year's harvests in Brazil, Argentina and other agricultural powerhouses could collapse."