Financial Times writers Emiko Terazono and Sun Yu reported last week that, "Record purchases by China have sent corn prices soaring since the end of last year, leaving farmers and analysts pondering how long the surge can be sustained.
"Rampant demand from the world's second-biggest economy has driven a fierce rally in grain prices in recent months. China has always been reliant on overseas markets for soyabeans to feed its animal herds.  But the ramping up of imports of corn — where the country has previously aimed for self-sufficiency — has surprised analysts and traders.
"China bought a record 11.3m tonnes of corn last year, of which more than a third came from the US. In late January, the US Department of Agriculture announced that China had bought another 2.1m tonnes, the largest single sale to the country in history and the second largest on record."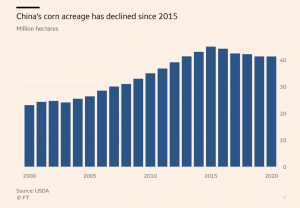 The FT article pointed out that,
With China set to become the world's largest corn buyer this year, as well as being the top soyabean importer, the big question for the sector is whether the country will stay ahead of other leading corn buyers such as Japan and South Korea.
Friday's article noted that, "Juan Luciano, chief executive of US agricultural traders ADM, told analysts in late January that China would be importing 25m tonnes of corn in future years. 'We think that . . . reserves are much lower than what the market is reporting there,' he said.
"But others in the industry view the rise in Chinese imports as temporary, especially if trade tensions with Washington continue — and predict that the buying could peter out once the country's depleted corn stocks are replenished."
Also last week, the monthly Grain: World Markets and Trade report from the USDA's Foreign Agricultural Service stated that, "For 2020/21, U.S. total [corn] sales and shipments to China stand at a record 17.7 million tons at the end of January.  Reflecting the large volume, China imports are raised 6.5 million tons from last month to 24.0 million. If realized, China would become the largest importer by a sizable margin."
And the USDA's Economic Research Service (ERS) stated last week in its Feed Outlook report that, "U.S. corn exports are raised 50 million bushels to 2,600 million. If realized, this increase is the highest ever, besting the previous record set in 2017/18 by 162 million bushels. Export prospects improved due to increased shipments to China this year, culminating in 38.8 million bushels in December to that country, as reported by the Census Bureau."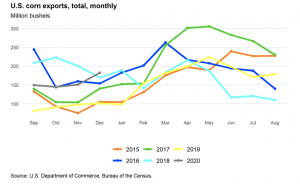 ERS added that, "As a result of the higher exports, projected ending stocks for 2020/21 are lowered 50 million bushels this month to 1,502 million, the lowest since 2013/14.
"The 50-million reduction in projected carryout is reflected in a $0.10 per bushel increase in the season-average price received by farmers for corn to $4.30 per bushel. The national-average price received for corn by farmers has steadily increased between the beginning of the marketing year in September, through the latest report from NASS in December. The December average price was $3.97."