Bloomberg writers Aine Quinn and Anuradha Raghu reported today that, "Russia said top agricultural commodities trader Cargill Inc. will stop exporting its grain, the strongest move yet by a major Western crop merchant to pull back from the country.
"As the biggest wheat exporter, Russian shipments are vital to global crop trade and food supplies. A bumper harvest there last year helped wheat futures drop more than 40% from a record reached just after Moscow's invasion of Ukraine. While Cargill is a big exporter of Russian wheat, the government said the firm's decision shouldn't affect overall shipments out of the country.
"The companies that buy, sell and ship the world's natural resources have reaped massive profits from the supply disruptions caused by the war, but are having to navigate a growing web of sanctions and other curbs as Western governments wrestle with the challenge of ensuring the flow of vital commodities without benefiting Russia. Russian crops aren't under any sanctions, but trade can be complicated by restrictions on Russian banks and state companies."
Also today, Reuters writer Olga Popova reported that,
Global commodities trader Cargill Inc has told Russia's Agriculture Ministry that it will stop exporting Russian grain from the start of the next exporting season, which begins on July 1, the ministry said on Wednesday.
"'The cessation of its export activities on the Russian market will not affect the volume of domestic grain shipments abroad. The company's grain export assets will continue to operate regardless of who manages them,' the agriculture ministry said in a comment to Reuters."
Meanwhile, Reuters writer Pavel Polityuk reported yesterday that, "Ukraine's grain exports for the 2022/23 season were down 17.7% to 36.9 million tonnes as of March 27 reflecting a smaller harvest and logistical difficulties caused by Russia's invasion, agriculture ministry data showed.
"The ministry said Ukraine had exported 44.8 million tonnes of grain as of the same date last year."
Also yesterday, Dow Jones writer Kirk Maltais reported that, "The rebound of soybean futures after finding a year-low of $14.20 a bushel late last week continued on Tuesday."
"Soybeans for May delivery rose 1.8%, to $14.67 3/4 a bushel on the Chicago Board of Trade on Tuesday, rising 3% in the past three sessions as fundamentals support a tight supply/demand picture," Maltais said.
Reuters writer Naveen Thukral reported today that, "Chicago soybean futures slid on Wednesday as prices eased from last session's one-week high, although concerns over lower production in drought-hit Argentina provided a floor under the market."
Thukral added that, "Agricultural markets are likely to seek direction from U.S. planting report due on Friday.
"Analysts polled by Reuters ahead of the report on average expect 2023 corn plantings at 90.880 million acres, wheat at 48.852 million acres and soybeans at 88.242 million acres."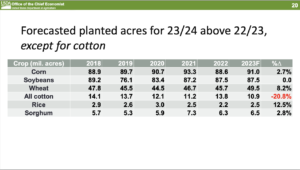 And with respect to U.S., China dialogue, Bloomberg writers Peter Martin, Jenny Leonard and Jennifer Jacobs reported today that, "White House National Security Advisor Jake Sullivan spoke with China's top diplomat Wang Yi on Friday, people familiar with the matter said, as the two sides look to ease tensions that have continued to build in recent months.
"Sullivan's previously unreported call took place days before Taiwan's President Tsai Ing-wen is scheduled to stop in the US en route to Central America, a trip that's likely to further inflame Beijing's ire. In a sign of the fraught state of US-China ties, neither side opted to publicize the call between Sullivan and Wang."
The Bloomberg writers pointed out that, "The official contact also comes as the Biden administration is looking to arrange a phone call between President Joe Biden and China's President Xi Jinping. US officials had hoped that would have taken place by now, but China has so far rebuffed efforts to arrange a conversation and the Biden administration now expects it won't occur until Tsai returns home early next month.
"In recent years, relations between the two countries have deteriorated as the the US and China have clashed over everything from trade to technology and the South China Sea."