Late last week, Bloomberg writers Elizabeth Elkin, Jen Skerritt, and Tarso Veloso Ribeiro reported that, "A Belarusian potash miner that accounts for a major chunk of global supply has declared force majeure, shaking up a market that's already contending with soaring prices.
"Belaruskali said around Feb. 16 that it won't be able to meet its contracts, according to a letter from an exporter addressed to clients seen by Bloomberg. Shipments have been halted as a result of U.S. and European sanctions.
The absence of Belarusian supplies will have big consequences.
"Potash is a key nutrient for major commodity crops like corn and soybeans, as well as produce. Fertilizer prices have already skyrocketed as soaring natural gas costs forced some European plants to halt or curtail production, and U.S. spot prices for potash in the Corn Belt have nearly doubled in the last year. Expensive fertilizer is making food more costly to produce and contributing to rising global inflation for consumers."
Meanwhile, Bloomberg writers Elizabeth Elkin and Tarso Veloso Ribeiro reported last week that, "A supply crunch is threatening to cause a spike in prices for the world's No. 1 weedkiller, making it even more expensive for farmers to grow food.
"A major supplier of an ingredient in glyphosate — an herbicide that's widely used by corn, soy, cotton and other farmers around the world — shut down production due to mechanical failures, and repairs could take three months. Bayer AG, the maker of Roundup, whose active ingredient is glyphosate, declared a force majeure on Feb. 11, meaning it may not be able to meet its sales agreements."
The Bloomberg article added that, "Bayer previously said that glyphosate pricing gained 25% between January 2021 and November, and the company expected prices to keep rising."
Bloomberg's Michael Hirtzer reported on Friday that, "U.S. poultry farms have yet another production headache to deal with: bird flu.
"For the first time in several years, cases of deadly avian influenza have hit farms in Indiana, Virginia and Kentucky recently. That prompted some nations such as Mexico to ban or limit imports from certain areas, and there's a risk that more curbs could be on the way."
Hirtzer explained that, "Though export disruptions could in theory leave more supplies stranded in the U.S. — and lower poultry and egg prices there — importers may not want to halt purchases for too long with bird flu elsewhere in the world too and demand remaining robust.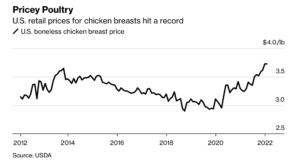 "Retail prices for chicken breasts in America reached a record last month before the virus hit farms there, while the cost of large eggs has hit the highest since 2018."
Federal Reserve officials also highlighted higher input costs in the agricultural sector at their meeting last month.
Minutes of their Jan. 25-26 meeting indicated that, "A few participants commented that agricultural businesses were experiencing higher input costs, and those higher costs were putting strain on the finances of those firms even as they experienced generally strong demand for their products."
And Brett Forrest and Will Horner reported in Saturday's Wall Street Journal that, "The possibility of an invasion looms large over the Ukrainian economy, with massive Russian naval exercises already threatening to choke off agricultural exports from a country that is a major world supplier of corn and wheat."
The Journal article stated that, "A blockade could jeopardize these exports, which account for 12% and 13%, respectively, of all global wheat and corn exports, according to data from the U.S. Department of Agriculture. Agriculture accounted for 45% of Ukraine's exports and 10% of its gross domestic product in 2020, making it the third-largest sector of the economy, according to the World Bank."
Saturday's article explained that, "Any sustained interruption would affect a host of companies and countries, including China, which has made Ukraine a centerpiece of its efforts to increase food security.
"Beijing was the top importer of Ukrainian grain last year, accounting for 21% of the country's grain exports. Ukraine exported a record 8.2 million tons of corn to China in 2021, comprising nearly 30% of total Chinese corn imports."