Ag economists' view on the ag economy is starting to erode. The September Ag Economists' Monthly Monitor shows lower commodity prices, concerns about demand and a negative outlook for China's economy are all contributing to the changing views, even as the cattle herd and U.S. corn and soybean crops continue to shrink. But the most influential piece of the farm economy might be the price of corn.
The Ag Economists' Monthly Monitor is a survey of nearly 60 ag economists from across the country, conducted by the University of Missouri and Farm Journal. The biggest story revealed in the September Monthly Monitor is the falloff in the ag economy — all three categories are lower than any of the previous three surveys.
"I think a lot of things are coming together to make people more pessimistic about the short-term view of things," says Pat Westhoff, director of the Food and Agricultural Policy Research Institute (FAPRI) at the University of Missouri. "We've got lower prices for some of the major commodities, such as corn, and that's obviously a major player in all this. Higher interest rates aren't helping as well. There's just a general concern about the future of demand for U.S. agricultural products, which has probably gotten to be a more important concern this past month."
---
---
Economists say there are several factors driving agriculture's economic health today, and will continue to do so over the next 12 months, including:
U.S. and global weather creating production challenges
Decline in many commodity prices
Below-trend yields for major crops in 2023
Strong cattle prices offset by lower prices of other livestock commodities
Generally high interest rates and input costs, despite some lower prices for fertilizer, etc., providing relief
Variable profitability across farm operations based on production challenges
Tight farm margins in some instances
Declining export demand
Uncertain international grain market factors
Increased production competition from South America
While there are several things that could impact the health of the farm economy, one economist says: "The biggest factor that will impact the health of the ag economy is the price of corn, by a long shot."
What are the biggest drivers of row crop prices over the next six months? The September Ag Economists' Month Monitor revealed the following:
Ongoing geopolitical tensions in China and Black Sea region
South America crop prospects for 2024, compared with new U.S. estimates of crop supplies
Export market demand changes
U.S. biofuel/energy policy, climate change policy and financial policy that could impact trade and domestic feed grain and oilseed use
For livestock, the ag economists reveal several things could also impact prices between now and March, including:
Reduced supplies for beef, pork and chicken should offer price support
Consolidation and reduction could be seen in early 2024
Consumer economic health and demand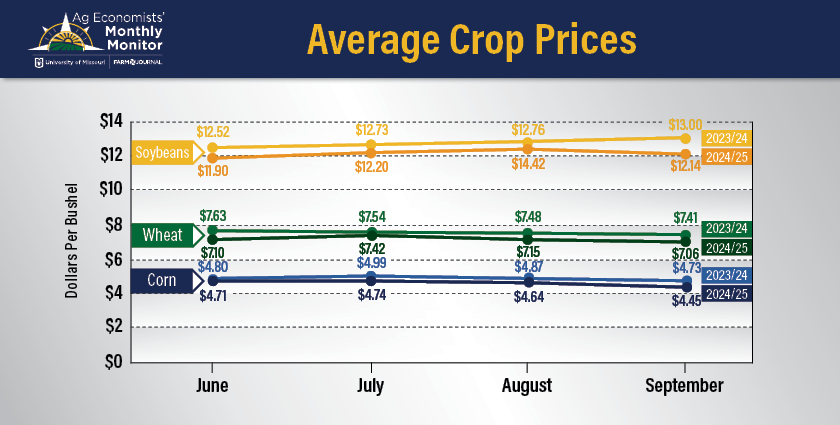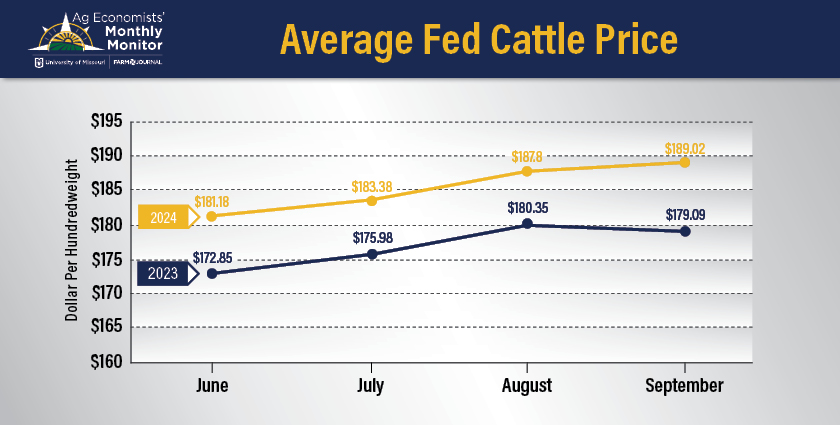 Economists fear higher interest rates could weigh on both livestock and row crops.
"Agriculture's economic health is being impacted by weak demand for many commodities, which is suppressing prices. Low prices are especially challenging for farmers facing weather-related production challenges with fewer bushels or pounds to sell at those low prices. Although costs of production have come down, farm margins are tight," says one ag economist in the anonymous survey.
---
---
Another economist says: "Building supplies of many commodities are leading to lower prices. Cattle and soybeans are the exception. Input costs, especially interest rates, remain high."
Watch What's Happening Around the Globe
One of the main themes that continues to surface in the Ag Economists' Monthly Monitor is concern about global competition. As competition continues to beef up from countries such Brazil, it's not just impacting grain exports, but also meat.
Arlan Suderman of StoneX Group says the increased competition globally is one of the main watchouts for grain prices.
"Russia is dumping record amounts of wheat on the world market and Brazil is dumping record amounts of corn on the world market, all while our livestock numbers are down which means feed usage is down," Suderman says. "I think the positives are the biofuel issue that's going to take some time to develop; we're already seeing it on the soybean side. We hope to get some favorable decisions from the administration to support the corn side."
So, what could change the outlook for lower corn prices? Suderman says there are several things, including what happens between Ukraine and Russia.
"I think the Black Sea war continues to escalate, with shipments of commodities out of Russia being curtailed. That's a game changer if that continues to happen. The odds are very low right now, but those are slowly increasing the longer the war goes," Suderman says. "On the other hand, tensions with China are increasing. I look for China to continue to try to diversify away from dependency on the United States for commodities, which means we needed to develop other markets domestic and abroad."
Concerns About Deglobalization
One concern for U.S. agricultural exports as a whole, according to Don Close of Terrain Ag, is deglobalization.
"I think the slowdown we're seeing in trade volumes, China is at the centerpiece, as well as the fallout that we could see from the Russia Ukraine situation. I have a lot of concerns about what we will see from Europe in the years to come. I think there's a lot of stress factors there," Close says.
The current economic meltdown in China is also a growing concern for many ag economists, according to the September Monthly Monitor.
"There are a lot of questions about what's happening in China, and there are a lot of concerns that China's economy has already slowed or will be slowing in the months ahead," Westhoff says. "Since that's a major demand driver, if that were to happen it might be a very strong negative. In this country, we're seeing continued economic growth, but those high interest rates are indeed having an effect on household finances and will probably result in at least some slowdown in consumption over the next year."
Big Crops Expected for 2024
In the September survey, economists were also asked to provide outlooks for 2024. As South America begins to plant next year's crop, expectations are for Brazil's big crops to just get bigger, at a time when costs at home are on the rise.
"The first thing is costs," says one economist when asked to provide an outlook on the next 12 months. "Interest rates are higher and likely to increase some more, but fertilizer prices are lower.  Lower feed prices are certainly providing some relief to livestock producers."
Ag economists expect U.S. farmers to produce big yields in 2024, with the expectation for El Nino to play in producers' favor.
The September Ag Economist' Monthly Monitor shows a projection of trend yields for 2024:
Corn: 180.4 bu. per acre yield
Soybeans:  51.8 bu. per acre
Cotton: 837 pounds per acre
While operating costs are expected to stay high, the Monthly Monitor shows certain input costs, such as fertilizer, continue to trend lower for the 2024 corn crop.
When economists were asked to give their expectation for the 2024 corn budget versus 2023, the September survey shows economists expect the following changes:
Market revenue down 4.7%
Fertilizer costs down 21%
Fuel costs up 1.5%
Chemical costs up 3.2%
Operating interest cost up 8.4%
"We've seen a sharp drop in spot prices for fertilizer already, which translates to lower prices for fertilizer for next year's crop," Westhoff says. "That could be some significant cost savings for crop producers. Likewise, on the livestock side, the fact we're projecting lower prices for grain and soybean meal suggests we could have lower feed costs in 2024 as well."
Even with some relief expected on the fertilizer side, economists still think higher costs and lower commodity prices will eat into outlooks for 2024.
"Today, in areas where crop production is likely short, there is some financial deterioration between the guaranteed crop insurance levels and input costs. In areas with good production, such as Ohio and Indiana, their production will likely lead to some fairly good profitability," says one economist. "In 12 months, lower crop prices are going to hurt 2024 crop profitability."
Source: Tyne Morgan September 27, 2023- Full article on AGWEB