On Thursday, the USDA released its Outlook for U.S. Agricultural Trade, a quarterly report from the Department's Foreign Agricultural Service (FAS) and Economic Research Service (ERS).  Today's update includes highlights from the report, which was coordinated by Bart Kenner, Hui Jiang, and Dylan Russell.
The Outlook stated that, "U.S. agricultural exports in fiscal year (FY) 2022 are forecast at a record $191.0 billion, up $7.5 billion from the February forecast, led by increases in corn, cotton, and soybeans.
Corn exports are forecast $2.2 billion higher to $19.1 billion due to record volumes and higher unit values. Overall grain and feed exports are projected $3.8 billion higher at $46.7 billion, with gains across all commodities except rice.
The Outlook also noted that, "Soybean exports are projected up $1.0 billion to a record $32.3 billion as higher volumes more than offset lower unit values. Total oilseed and product exports are forecast $700 million higher to a record $44.3 billion. Overall livestock, poultry, and dairy exports are projected to increase by $1.2 billion to $40.4 billion, with gains across all major commodities except pork."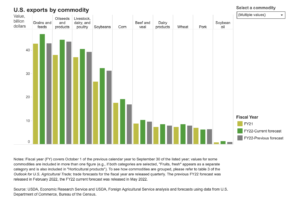 FAS-ERS pointed out that, "The forecast for China is unchanged at $36.0 billion from February, and a record if realized. Exports to the Western Hemisphere are projected $6.5 billion higher, with Mexico and Canada forecast up $2.5 billion each. China is forecast to remain the largest U.S. agricultural market in FY 2022, followed by Mexico and Canada."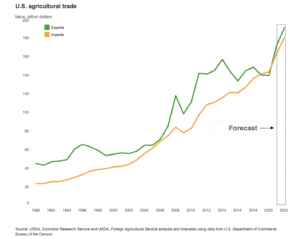 More narrowly, FAS-ERS pointed out that, "Sales and shipments of U.S. corn have accelerated as Russia's invasion has constrained exports from Ukraine, which has also kept prices elevated. South America is expected to have strong volumes in the coming months from record production, also helping to fill the gap left by lower Ukrainian exports. Sorghum exports are forecast at $2.6 billion, up $100 million from the February forecast, as higher unit values more than offset lower volumes."
Thursday's update added that, "Wheat exports are forecast at $8.4 billion, up $600 million from the previous forecast, on higher unit values which more than offset lower volumes. Global wheat prices have spiked following Russia's invasion of Ukraine and the resultant disruptions to trade. Additionally, drought impacting the U.S. winter wheat crop has kept unit values elevated at multi-year highs, though it has reduced U.S. export competitiveness."
Recall that 2021 U.S. agricultural exports totaled $177 billion, the current annual calendar year record.