Yusuf Khan and Will Horner reported in today's Wall Street Journal that, "Fine farm weather and a rush of Russian grain ships through the Black Sea have taken the sting out of global wheat prices, a welcome sign for vulnerable countries struggling with surging food costs.
"The right mix of sun and rain in the U.S., Europe and Australia has raised hopes that end-of-summer harvests will be plentiful. That should help balance the sizable quantities of Ukrainian wheat stranded in the country by fighting and a Russian naval blockade.
"Meanwhile, Russia—which is expected to produce a record wheat crop—has managed to take advantage of the situation, keeping its grain exports flowing, even as Western banks and insurers have pulled back, reluctant to deal in Russian commodities."
Khan and Horner explained that, "Benchmark wheat prices are down by more than a quarter from their post-invasion peak, and the commodity trades for around $9 a bushel. They are still higher than they were before the war and before wheat prices began to rise through the pandemic.
But the downturn is providing a glimmer of hope that prices for the staple ingredient in bread and pasta won't return to their highs earlier this year.
"The U.S. Department of Agriculture raised its wheat production forecast by 8 million bushels earlier this month, while a crop progress report this week showed winter wheat harvests were 41% complete, ahead of the five-year average rate."
The Journal writers added that, "Even as Russia stymies Ukrainian ports and seizes farmland, there has been no letup in vessels leaving Russia's busiest Black Sea grain terminals. Monthly departures of bulk carriers laden with cargo leaving Russia's Black Sea port of Novorossiysk have largely remained the same over the past year, averaging around 60 a month, according to data from MarineTraffic."
Reuters writer Alexander Winning reported yesterday that, "A first cargo ship has left the Russian-occupied Ukrainian port of Berdyansk, a local official said on Thursday, after Russia said the port had been de-mined and was ready to resume grain shipments."
Meanwhile, Associated Press writer Francesca Ebel reported yesterday that, "Russian forces withdrew from a strategic Black Sea island Thursday, potentially easing the threat to the vital Ukrainian port city of Odesa, but kept up their push to encircle the last stronghold of resistance in the eastern province of Luhansk.
"The Kremlin portrayed the pullout from Snake Island as a 'goodwill gesture.' But Ukraine's military claimed it forced the Russians to flee in two small speedboats following a barrage of Ukrainian artillery and missile strikes. The exact number of troops was not disclosed."
The AP article noted that, "Ukraine and the West have accused Russia of blockading Ukrainian ports to prevent exports of grain, contributing to a global food crisis. Russia has denied that and said Ukraine needs to remove mines from the Black Sea to allow safe navigation.
"Turkey has sought to broker a deal to unblock grain exports. But the talks have dragged on, with Kyiv expressing fear that Russia will exploit the removal of the mines to attack Odesa."
Also, Jon Emont reported in today's Wall Street Journal that, "Indonesian President Joko Widodo met with Russian leader Vladimir Putin in Moscow a day after he held talks with Ukrainian President Volodymyr Zelensky in Kyiv on Wednesday—meetings in which Mr. Widodo said he appealed for peace and sought solutions to the global food-supply disruptions caused by war.
"The visits to the two countries—the first by an Asian leader since Russia's invasion of Ukraine—symbolized efforts by a large swath of the developing world to avoid overtly criticizing Russia or be seen as picking a side. In remarks alongside Mr. Zelensky on Wednesday, Mr. Widodo, who is popularly known in his country as Jokowi, didn't mention Russia by name or Moscow's role in cutting off Ukraine's Black Sea ports that has prevented Ukrainian grain from reaching global markets.
"On Thursday, Mr. Widodo spoke to Mr. Putin about trade, investment and tourism between the two countries, he said from Moscow in televised remarks. He expressed appreciation for what he called Mr. Putin's guarantees that food and fertilizer from Russia and Ukraine would make it out safely, though he provided no details on how this would happen. Efforts by the United Nations to broker a deal remain inconclusive."
Elsewhere, Bloomberg writers Michael Hirtzer and Kim Chipman reported yesterday that, "Corn is again the top US crop after soaring grain prices motivated farmers to shrug off weather woes and high fertilizer costs to plant more than expected while cutting back on soybeans.
"Chicago corn fell to the lowest since early February after the US Department of Agriculture said growers will plant 89.9 million acres, a slight rise from the March estimate. Soy seedings, which had been seen overtaking corn for only the third time in a century, dropped 3% to 88.3 million acres, still the third-biggest ever if realized."
Hirtzer and Kim Chipman pointed out that, "Ample harvests this fall would help replenish war-strained reserves and potentially ease food inflation."
And Bloomberg writer James Poole reported today that,
Global food inflation looks set to slow as key farm commodities such as wheat, corn and cooking oils extend their slump to the lowest levels in months.
"The latest catalyst is a report from the US Department of Agriculture, which raised its estimate for the area planted to corn in the world's biggest producer this year. In wheat, fields seeded last fall are being harvested and supplies are coming onto the market, and for cooking oils, top producer Indonesia is ramping up exports after a ban."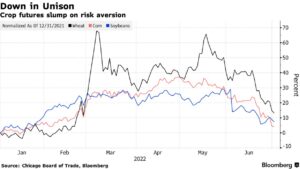 "Corn futures on Friday in Chicago extended the previous day's losses of more than 5%, falling to the weakest intraday level since early February, before the Russian invasion of Ukraine on Feb. 24. Wheat dropped to the lowest level since the day after the Russian invasion. Soybean oil retreated to the lowest mark since January."
"Global food costs may show a further drop from the record in March when the United Nations publishes its latest monthly price index next week," the Bloomberg article said.