Financial Times writer Susannah Savage reported yesterday that, "The price of wheat has been pushed to a near three-year low by an exceptionally strong crop in Russia, but analysts warn that an escalation of tensions between Ukraine and Russia in the Black Sea and high levels of hedge fund bets risk causing a renewed spike.
"Prices have fallen more than a fifth since the end of July, even as the Russian invasion continues to disrupt exports from Ukraine, one of the world's top exporters."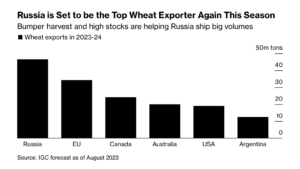 Nonetheless, the FT article cautioned that,
But analysts warn that prices could rapidly rise if the war spills out across the Black Sea. Russia's Black Sea ports handle about 70 per cent of its wheat exports, making it a crucial artery for the global supply of grain.
Savage pointed out that, "Global grain prices have more than halved since peaking at more than $13 a bushel in the wake of Russia's invasion of Ukraine last year."
Recall that earlier this month, the USDA's Economic Research Service indicated that, "U.S. Hard Red Winter (HRW) exports are forecast down 10 million bushels this month to 155 million bushels, the lowest since records started in 1973/74."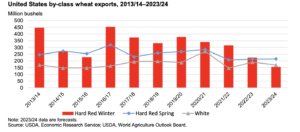 Meanwhile, New York Times writer Constant Méheut reported today that, "The Polish Foreign Ministry said on Wednesday that it had summoned the Ukrainian ambassador over comments made by President Volodymyr Zelensky at the United Nations General Assembly a day earlier suggesting that some European allies were playing into Russia's hands by politicizing a dispute over the export of Ukrainian grain."
The Times article explained that, "Ukraine has expressed anger at the move, saying that continuing to ban its grain would hurt the country's economy in a time of war. On Tuesday, Mr. Zelensky told the United Nations General Assembly that 'it is alarming to see how some in Europe, some of our friends in Europe, play out solidarity in a political theater — making a thriller from the grain.'
"'They may seem to play their own role,' Mr. Zelensky added, 'but in fact they are helping set the stage to a Moscow actor.'
"Mr. Zelensky's comments seemed to add fuel to a dispute that has quickly escalated. On Monday, Ukraine filed a complaint with the World Trade Organization against the three countries, arguing that they could not impose bans unilaterally and that trade policy was the responsibility of the European Union's authorities. Polish authorities struck a defiant tone, saying they would not budge."
Also today, Reuters writers Alan Charlish and Pawel Florkiewicz reported that, "Poland is no longer arming Ukraine as it is focusing on building up its own stocks of weapons, the prime minister said on Wednesday, as Warsaw's stance towards Kyiv shifts just weeks before an election."
"[Mateusz Morawiecki's] words came after Poland summoned the Ukrainian ambassador to the foreign ministry to protest against comments made by President Volodymyr Zelenskiy following Poland's decision to extend the grain ban."
And yesterday, Financial Times writers Alice Hancock and Henry Foy reported that, "Brussels is considering whether to defend Poland, Hungary and Slovakia against a lawsuit filed by Kyiv, after the three countries broke EU rules to ban imports of Ukrainian grain that they said were flooding their markets."
"The European Commission, the bloc's executive, had initially demanded Poland, Hungary and Slovakia reverse their bans, but is now working to 'co-ordinate' their legal rebuttals to Kyiv's filing of a suit at the World Trade Organization," the FT article said.
Hancock and Foy indicated that, "Discussions inside the commission regarding whether or not to defend Poland, Hungary and Slovakia were continuing on Wednesday evening, said a person with knowledge of the talks."
Elsewhere, Reuters writer Jan Lopatka reported today that, "Slovakia and Ukraine's farm ministers have agreed to establish a licensing system for trading in grains, allowing a ban on imports of four Ukrainian commodities to Slovakia to be lifted once the system is set up, the Slovak Agriculture Ministry said on Thursday."
"The Slovak ministry did not give details on how the licencing system would work," the article said.
Reuters writer Luiza Ilie reported yesterday that, "Romania will work with Ukraine over the next 30 days on a grain export control plan that will help protect Romanian farmers, Agriculture Minister Florin Barbu said on Wednesday.
"Romania is among five eastern European Union countries along with Bulgaria, Hungary, Poland and Slovakia that saw a surge of Ukrainian grain imports after Russia invaded Ukraine. This distorted local markets and prompted farmer protests, leading the EU to approve curbs on Ukrainian grain imports – while still allowing grain transiting elsewhere – until Sept. 15."
And in a separate Reuters article yesterday, Luiza Ilie reported that, "Romanian port operators in the Black Sea port of Constanta are investing to boost their grain handling capacity as Ukraine ramps up exports through its neighbour, the manager of operator Comvex said.
"Ukraine is one of the world's biggest grain exporters and since Russia's invasion last year, Constanta has become Kyiv's largest alternative export route, with grains arriving by road, rail or barge across the Danube."
The article noted that, "The Romanian government has said it aims to double the monthly transit capacity for Ukrainian grain through its Constanta port to four million metric tons in the coming months from virtually zero before the Russian war started.
"In August, roughly 2.7 million tons of Ukrainian grain passed through Constanta, Comvex manager Viorel Panait said in an interview with Reuters."