Each year, Farm Credit and Compeer Financial update their real estate benchmarks across the territory. The benchmarks consist of bare land and improved tracts, appraised annually to keep a pulse on the land market and the fluctuations in different regions. Wisconsin has seven improved and eight bare land tracts. The parcels range in land size from 75 to 235 acres with most being roughly 150 acres.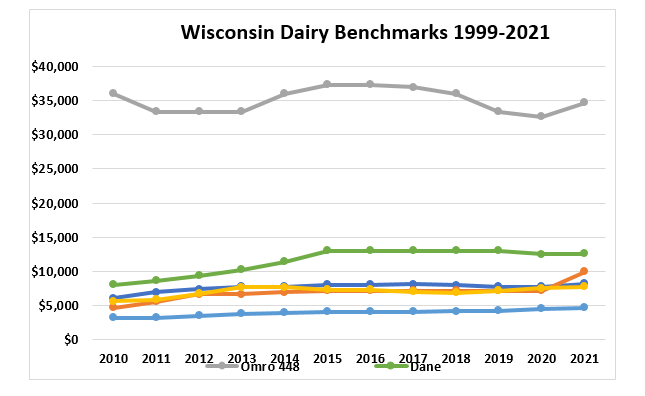 Dairy benchmarks across the last ten years have had fairly consistent returns as shown in the chart above. Over the last 20 years, milk prices have varied widely, ranging from less than $10 per hundredweight (cwt) to over $24 per cwt. The ranges have been trending upward, with milk in the high $16 per cwt area currently. Dairy farm size overall has decreased significantly in recent years. Most are less than 100 cows, while the larger dairies are maintaining or growing slightly. Last year was the slowest loss of dairy herds in the state at 360, which is down from the previous two years at 818 and 500 respectively. The benchmarks ranged considerably, but all showed an increase from 1% to 38.5% with the bulk in the 2-6% area. The high end (38.5%) was in the SW part of the state and mostly revolved around the land portion of the property.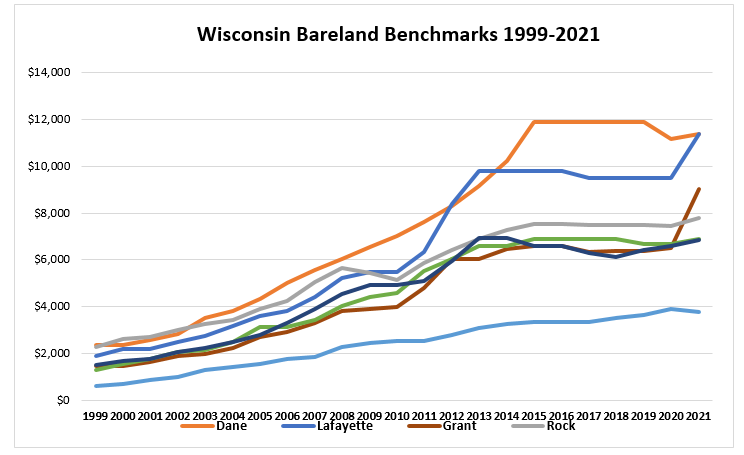 Wisconsin bare land benchmarks showed strong returns once again, with only the Monroe benchmark decreasing slightly. Most counties were in the 2-4% range year over year, with the Barron benchmark up 12.4%. Strong commodity prices and low interest rates have helped the majority of benchmarks. Two notable benchmarks from southwestern Wis. are the Grant County and Lafayette County benchmarks. Both of these farms showed increases of 38.3% and 20% respectively. A very strong demand with limited supply has spurred a highly competitive market in the area. Several factors, with the already high-priced market, seemingly pushed the market even higher. There have been a select few land auctions with desirable land and strong demand from neighboring landowners. There also has been a strong push from investors buying land whenever and wherever available. While local farmers seem to still support the prices, if the investors slow down their buying will the land values begin to retract? Overall, the strong commodity prices and low interest rates will likely support strong land prices for the foreseeable future.