Matt Brechwald, the host of the Off-Farm Income Podcast (www.offincome.com), who proudly refers to himself as "The World's Most Prolific Agricultural Podcaster", based on an article that referred to him that way, is celebrating the 1,000th episode of the Off-Farm Income Podcast this week. Brechwald stated, "the first time I ever sat down behind the microphone I was all alone in a room and embarrassed because I wondered who would ever want to hear my thoughts on agriculture. Back then I would have never imagined the response we have received, the other opportunities to talk about agriculture that have come our way or reaching 1,000 episodes of Off-Farm Income."
Off-Farm Income, Brechwald's original podcast, reached the pinnacle of 1,000 episodes on February 20th. The show has grown to be an international brand associated with agricultural podcasting. Today, Off-Farm Income is released six times per week on Spotify, Apple Podcasts, iTunes and many other podcast platforms. (Subscribe To Off Farm Income! Apple Podcasts | Android | Google Podcasts | RSS | How To Subscribe.)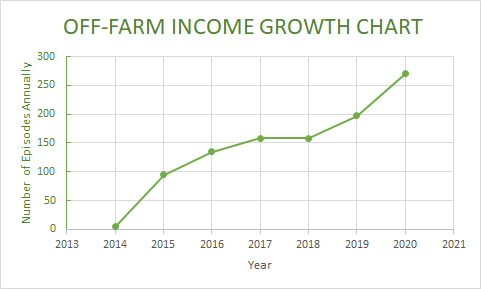 Episode Growth On The Off-Farm Income Podcast Since 2014
Entrepreneurship and small business in agriculture are still the foundation of the show, but listeners can hear episodes on a number of different agricultural topics every week. Over time, Off-Farm Income, has become just as well known for profiling the entrepreneurship Supervised Agricultural Experience's (SAE's) of FFA students as it is for talking about entrepreneurship.
And, on Saturday's you can hear stories about rural crime from the U.S., U.K., Canada and Australia as Brechwald combines his expertise in law enforcement and criminal justice with his knowledge of agriculture.  "I've worked and studied in both of those worlds, and nobody is really talking about rural crime in the U.S. So, it seemed a natural fit to add it to the lineup of weekly episodes" said Brechwald.
In addition to Off-Farm Income you can hear Matt Brechwald discuss agriculture on the Corn Revolution and Pioneer Tour Podcasts, which he hosts for Pioneer Seeds, and the D&B Supply Show Podcast, which he hosts for D&B Supply, a farm and ranch retailer based in Caldwell, Idaho. For more information visit www.offincome.com.